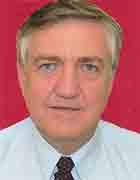 Expert Witness
Download CV
John Steuart McINTYRE
Certified Mineral Valuer
Certified Professional Appraiser
Membership No. MAIMVA - 002
Managing Director
Behre Dolbear Australia Pty Limited
www.dolbear.com
Contact:
Tel: +61 (0)2 9954 4988
Mobile: +61 (0)418 210 333
Email: john.mc@behredolbearsyd.com
Skype ID:
Qualifications
BE (Mining) Hons
Prof Memberships:
FAusIMM, CP (Mining), MMICA, MAIMA
Positions Held and Awards:
Personal Profile
Mr McIntyre is a mining engineer and certified Mine Manager in NSW and Queensland, with more than 40 years of experience in the management, operation and design of mines, including underground base and precious metals, surface hard-rock and coal and alluvial operations. He has led projects in Australia, New Zealand, West Africa,PNG, the Philippines, Vietnam and North America and has prepared management reviews, technical audits, economic evaluation, mine design and feasibility studies for new and existing operations.
Mr McIntyre worked as an engineer and manager in underground copper, open cut gold and surface coal mining and was General Manager of Operations at Curragh Queensland Mining (coal) and CEO of L&M Mining (gold) at various periods in his career. He has developed expertise in mining operations and planning, mine design, cost estimation, project valuations and assessments, independent technical due diligence, review of feasibility studies, project development and construction.
In 1994, Mr McIntyre was appointed the founding Managing Director of Behre Dolbear Australia (BDA), the Sydney-based subsidiary of US group Behre Dolbear and Company Inc (BDCI), which has operated continuously as a mineral industry consultancy in North America since 1911. BDA has established itself in Australasia and the SE Asian region as a source of professional mining expertise, covering all aspects from resource/reserve definition, mine planning and operations, metallurgical and environmental planning and review, project engineering and financial analysis and valuation. Mr McIntyre has been instrumental in developing BDA in the role of Independent Engineer to financiers of resource projects, whereby independent technical advice is provided from feasibility study, through construction and commissioning, to operations, with the role including cost validation and certification for funding draw-downs and Completion Test certification.
Mr McIntyre has also held the position of Director in several public mining/resource companies over the past 15 years.
Areas of Practice
Mine and Mineral Property Valuation,Project Company Appraisals Audits,Project Technical Reviews Audits and Due Diligence Studies,Project Appraisals - mining engineering
Commodity Experience
Base metals,Beach sands and heavy minerals,Gold Silver,Iron ore manganese chrome,Nickel,Uranium,Coal
Country Experience
New Zealand,PNG,Fiji,Indonesia,Philippines,SE Asia,West Africa,United States
Australian States
NSW/ACT,NT,QLD,TAS,WA
AIMVA Australasian Institute of Minerals Valuers & Appraisers
75 Melba Drive, East Ryde, NSW 2113